Gravel Driveway Installation Rathgar, Dublin
Town / Area:
Rathgar, Dublin, Ireland
Type of work: Gravel Stone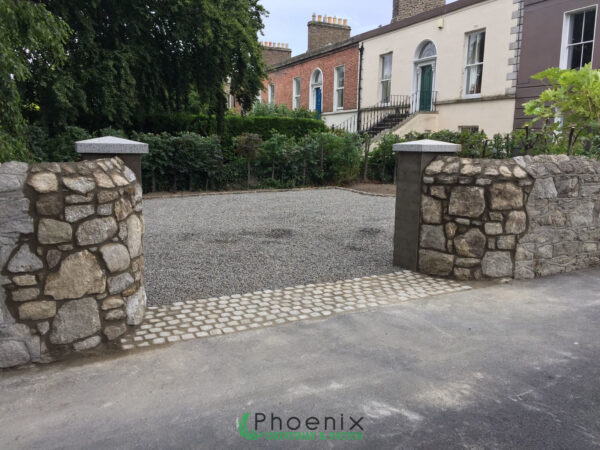 Preparation Summary:
Dug out and removed the area, Redesigned the layout of the area, Adjusted the overall levels of the area, Supplied and installed 804 stone base, Supplied and installed membrane sheeting
Gravel Installation
A new cobblestone border around the area set in concrete, Laid-in membrane weed block, Installed a new gravel stone surface over the area, The gravel stone was 12mm aggregate
Gravel Colour: Silver
Gravel driveway installation in Rathgar, Co. Dublin. Existing lawn areas removed and pathway. We dug down to over 1ft in order to establish a solid base. New base was installed and compacted using a machine roller. Existing wall had a section removed to allow entrance by a car. New pillars added to this section. Entire area had membrane sheeting installed. Gravel installed over the driveway area. Apron granite set installed at the entrance to the new driveway area. Granite kerb ran around entire driveway area which we set into a solid concrete to retain. Gravel colour is a natural grey.
Get a quotation today in Rathgar, Dublin from Phoenix Driveways  for a new gravel driveway. We look forward to hearing from you.
More Work In: Rathgar, Dublin, Ireland