Silver Granite Patio in Whitehall, Dublin
Town / Area:
Whitehall, Dublin, Ireland
Type of work: Patio Slabbing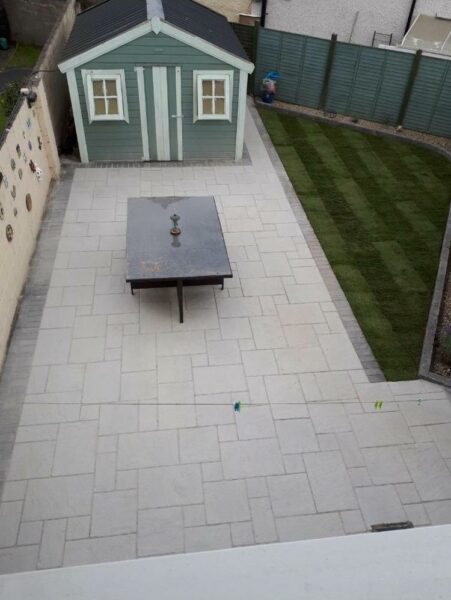 Preparation Summary:
Dug out and removed the area, Lowered base levels in the area, Supplied and installed 804 stone base, Supplied and installed membrane sheeting
Slabbing Installation
Laid down a concrete bed, Laid down slabbing on top of the bed, Resin grouted the slabbing
Here is a quick recap of a patio project in Dublin, completed by Phoenix Driveways using Silver Granite Belvedere slabs.
First we completely removed the weathered concrete slabbed patio and the adjacent lawn. We laid down a stone sub-base together with a heavy duty membrane sheeting, that will stop any weed growth.
Our next step was to lay boundaries around the perimeter and in between the patio and the future lawn. We used Charcoal Slane border and Roll-out lawn, that is popular for its low maintenance.
For the main paving we used Silver Granite Belvedere Slabs in various sizes for an irregular, eye catching look.
Click here to see other patios in Dublin or call Phoenix Driveways' professional patio team at 01 697 2087.