Raised Patio with Astroturf in Dublin
Town / Area:
Dublin, Ireland
Type of work: Lawns → Artificial Grass, Patio Slabbing → Concrete Slabbing, Patio Slabbing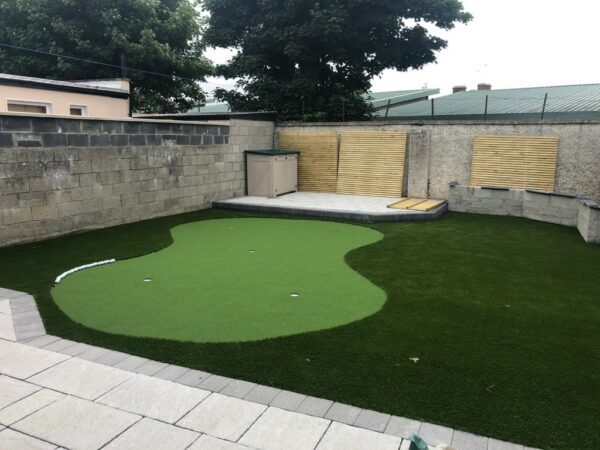 Preparation Summary:
Dug out and removed the area, Redesigned the layout of the area, New drainage system, Supplied and installed 804 stone base, Erected new block walls
Slabbing Installation
Laid down a concrete bed, Laid down slabbing on top of the bed, Jointed with kiln dried sand
Lawn Installation
Installed artificial grass lawn
Take a look at the before and after pictures of this raised patio with a little golf playing field.
First we dug out the original patio and laid down a new foundation. We created the raised patio in one of the corners using Light Grey slabs with Charcoal border.
We laid the astroturf in a required shape, that will allow the owners to enjoy their favorite sport at home.
Visit our website to find more details about our patio services in Dublin. You can also reach out to Phoenix Driveways via social media or via phone at 01 697 2087 to schedule an appointment or to request a free quote.
More Work In: Dublin, Ireland