New Block Paving Installation in Portmarnock, Dublin
Town / Area:
Portmarnock, County Dublin, Ireland
Type of work: Gravel Stone, Paving Work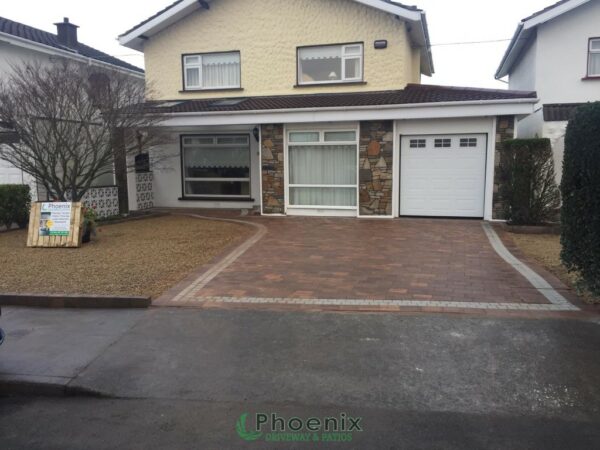 Preparation Summary:
Dug out and removed the area, Redesigned the layout of the area, Adjusted the overall levels of the area, Supplied and installed 804 stone base
Paving Installation
Supplied and installed a sand / grit base for laying paving, The paving used was Lismore paving, Laid the paving in a staggered/random pattern, Cut the paving and jointed with kiln-dried sand to lock in place, All open edges of paving set in concrete, Machine vibrated and compacted the paving
Main Colour: Curragh Gold
Border Colour: Silver Granite
Gravel Installation
Laid-in membrane weed block, Installed a new gravel stone surface over the area, The gravel stone was 12mm aggregate
Gravel Colour: Gold
A new driveway installation completed at the Dunes in Portmarnock in Dublin. Replaced existing concrete driveway. Extended out the driveway and created a low maintenance gravel section instead of a lawn area. Raised block kerb at the front to retain the gravel. Silver granite border around the driveway. New recessed inspection chamber to blend in with driveway. Built a small step at entrance to house.
Call Phoenix Driveways in Dublin today for a free no obligation quote on installing, replacing or building a new driveway or patio at your home in Dublin. We offer quality workmanship from a genuine Dublin paving specialist who has been working in Dublin for over 20 years. When you get a driveway built by Phoenix Driveways, it is built to last.