Gravel Driveway with a Paved Footpath in Walkinstown, Dublin
Town / Area:
Walkinstown, Dublin, Ireland
Type of work: Gravel Stone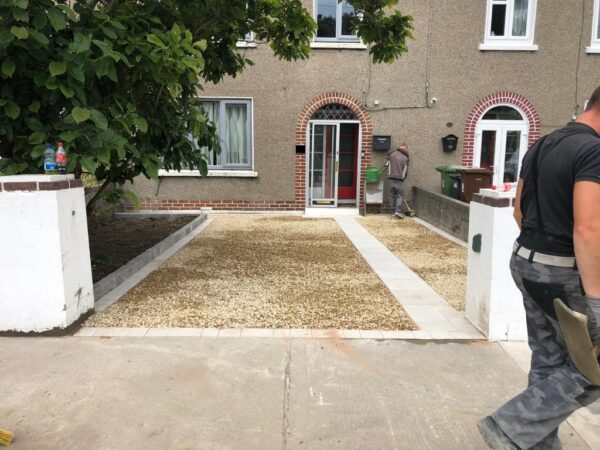 Preparation Summary:
Dug out and removed the area, Graded off the surface, Adjusted the overall levels of the area, Supplied and installed 804 stone base, Installed new kerbing set in concrete, Built new flower beds, Retained flowerbeds with edging
Gravel Installation
Laid-in membrane weed block, Installed a new gravel stone surface over the area
Gravel Colour: Gold
Slabbing Installation
Laid down a mortar bed, Laid down slabbing on top of the bed, Resin grouted the slabbing
Here are some before, during and after photos of a gravel driveway, completed by Phoenix Driveways in Walkinstown, Dublin.
First we removed the original driveway and the front pillar to make the driveway more accessible.
Then we laid a new hardcore foundation with membrane sheeting underneath. We installed new kerbs and paving border around the perimeter and also a new paved footpath leading towards the front door.
Finally we filled the remaining driveway area with Golden Gravel chippings and raked them smooth.
Call Phoenix Driveways today to schedule an appointment or to request a free quote on your own driveway project. Phoenix Driveways are reliable and professional gravel driveway contractors in Dublin.
More Work In: Walkinstown, Dublin, Ireland