Block Paving Driveway with Raised Flower Bed in Dublin
Town / Area:
Dublin, Ireland
Type of work: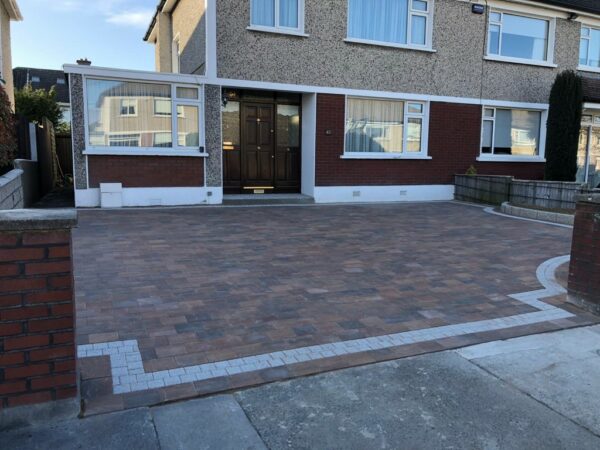 Preparation Summary:
Dug out and removed the area, Built new flower beds, Retained flowerbeds with edging
Paving Installation
Supplied and installed a sand / grit base for laying paving, Installed paving on top of the sand, The paving used was Lismore paving, Cut the paving and jointed with kiln-dried sand to lock in place, All open edges of paving set in concrete, Machine vibrated and compacted the paving
Main Colour: Curragh Gold
Border Colour: Silver Granite
Take a look at some pictures of a driveway project completed this week by Phoenix Driveways in Dublin.
Firstly we took out the existing driveway and put down a new hardcore 804 base together with a membrane sheeting.
We installed new raised flower beds on one side, using granite blocks and topped the surface with Ballylusk gravel to stop any unwanted weed growth.
To finish the driveway we poured down sand and cement mixture, screeded it smooth and laid our block paving on top. Colours of choice were brindle mix with natural gray cobble border for a contrast.
Our team at Phoenix Driveways is looking forward to hearing from you soon to schedule an appointment and bring your own driveway projects to life. You can see other block paving services in Dublin on our website.
More Work In: Dublin, Ireland