Block Paving Driveway with a Side Wall and Turf in Dublin
Town / Area:
Dublin, Ireland
Type of work: Lawns → Roll on Turf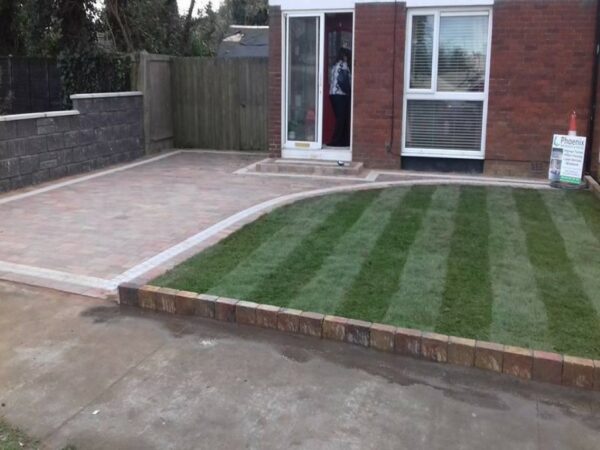 Preparation Summary:
Dug out and removed the area, Adjusted the overall levels of the area, Supplied and installed 804 stone base, Supplied and installed membrane sheeting, New step(s), Installed new kerbing set in concrete
Paving Installation
Supplied and installed a sand / grit base for laying paving, Installed paving on top of the sand, The paving used was Lismore paving, Cut the paving and jointed with kiln-dried sand to lock in place, All open edges of paving set in concrete, Machine vibrated and compacted the paving
Main Colour: Curragh Gold
Border Colour: Silver Granite
Lawn Installation
Installed new soil surface, Shuttered off the area, Installed roll-on turf lawn
This was a total driveway transformation carried out by Phoenix Driveways in Dublin.
We removed the original driveway and laid a brand new block paving. Our team also built a brand new wall on one side to create a visible divide between the two neighbouring driveways.
We created a raised, roll-out turf lawn with granite border for a spot of greenery.
Call us today to schedule an appointment or get a free, no obligation quote. Click here to see other block paving services in Dublin by Phoenix Driveways.
More Work In: Dublin, Ireland